Patent information
コタラヒムブツは、下記のような様々な働きが報告されています。(原著論文より)
1.Diabetes prevention action
2.Anti-hyperlipidemia
3.Intestinal action
4.Anti-obesity effect
5.Aldotsledectase inhibitory action
6.Prevention of hay fever by suppressing type I allergy (animal studies)
7.IV. Prevention of contact dermatitis by suppressing type allergic diseases (animal studies)
8.Prevention of spatial cognitive decline associated with aging (animal studies)
9.Antioxidant action
10.
皮膚老化抑制作用
11.
加齢臭予防作用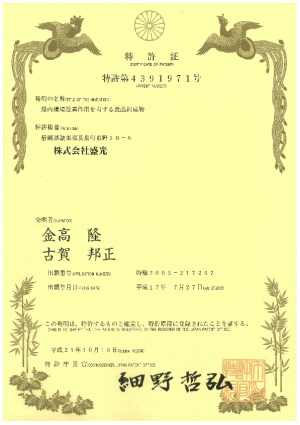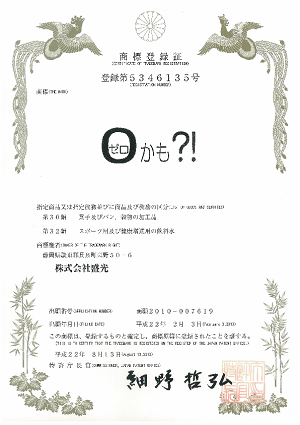 ♦ food composition having a patent no. 4391971 issue in environmental improvement in bowel(10/16/2009)
♦ trademark registration 5346135 No. 0(Zero)Maybe?(8/13/2010)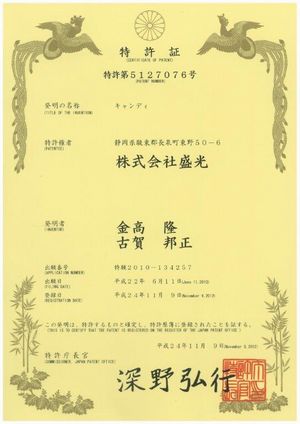 ♦ Patent No. 5127076 No. candy(11/9/2012)
♦ noodles with crushed leaves of Patent No. 5129671 No. salacia spp.(11/9/2012)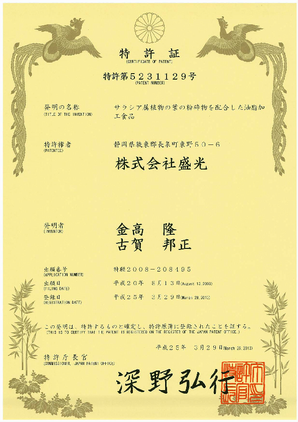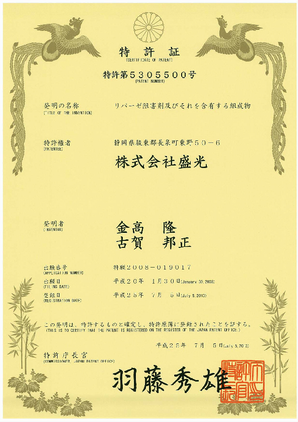 ♦ oil products formulated with patent no. 5231129 No. salacia spp. leaves crushed(3/29/2013)
♦ Patent No. 5305500 No. lipas inhibitors and compositions containing it(7/5/2013)

This page has been automatically translated. Please note that it may differ from the original contents.